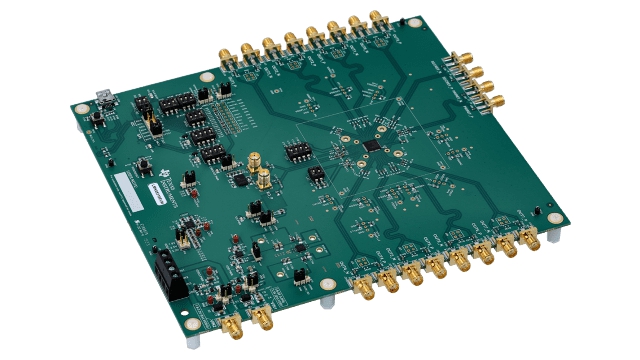 Network synchronizer clock evaluation module
Texas Instruments

Description:
The LMK05318EVM is an evaluation module for the LMK05318 Network Synchronizer Clock device. The EVM can be used as a flexible, synchronous clock source for rapid evaluation, compliance testing, and system prototyping. SMA ports provide access to the LMK05318 clock inputs and outputs for interfacing to 50-Ω test equipment. Onboard XO options are included, but can be reworked using the various XO/TCXO/OCXO footprint options or else bypassed to use the external SMA input.
The LMK05318EVM provides a USB-based interface to access the I2C/SPI bus and control pins of the LMK05318. The TICS PRO software GUI can be used to program the LMK05318's registers and EEPROM to store custom start-up clock settings.
Features:
One Digital PLL (DPLL) with programmable bandwidths and Two Fractional Analog PLLs (APLLs) for Flexible Clock Generation
Two reference inputs to the DPLL supporting hitless switching & holdover
Eight output clocks with 50-fs RMS phase jitter (12 kHz to 20 MHz)
On-chip EEPROM for custom start-up clock configurations
Flexible oscillator sources: onboard XOs or external SMA input options
USB interface supports I2C/SPI control register access and general-purpose input pin control
Whats included:
3-ft. Mini-USB Cable (MPN 3021003-03)
Type: Evaluation Modules & Boards
Part number: LMK05318EVM
Network synchronizer clock evaluation module Inventory
by: Texas Instruments
Distributor
SKU
Stock
Cost
Mouser Electronics
595-LMK05318EVM
3
$534.90
Texas Instruments
LMK05318EVM
8
$399.00
Texas Instruments
LMK05318EVM
8
$399.00
Verical Marketplace
LMK05318EVM
49
$469.41
Arrow North American Com...
LMK05318EVM
0
$478.80
AVNET Express
LMK05318EVM
$486.78
Digi-Key
296-53498-ND
0
$466.83
Part Number
Name
Companion Part