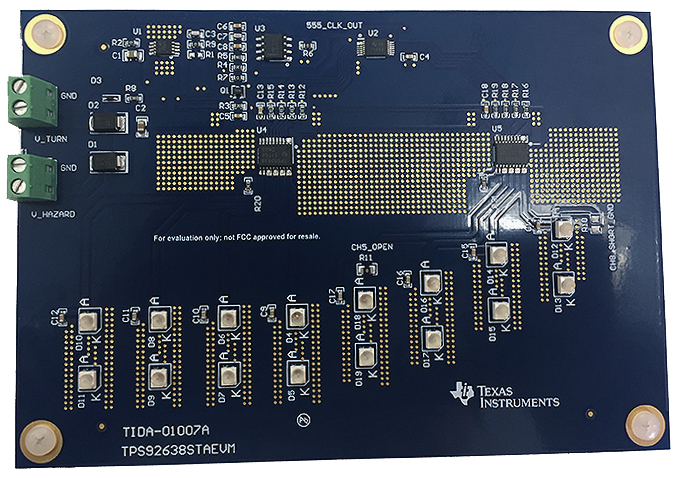 EMC Compatible Automotive LED Rear Lamp With Sequential Turn Animation Evaluation Module
Texas Instruments

Description:
This design is an analog solution for automotive rear lamps with sequential turn animations. This design is compatible with the TL81000 RI and the BCI test in a third-party EMC lab. This design also illustrates full automotive diagnostic with low quiescent current during fault mode.
Features:
Automotive Battery Direct Connection
Compliance With TL81000 RI and BCI
Sequential Turn Animation Without MCU
Full Diagnostic and Protection
One-Fail-and-All-Fail (OFAF) Function
Low-Quiescent Current During Fault Mode
Type: Evaluation Modules & Boards
Part number: TPS92638STAEVM
EMC Compatible Automotive LED Rear Lamp With Sequential Turn Animation Evaluation Module Inventory
by: Texas Instruments
Distributor
SKU
Stock
Cost
Texas Instruments
TPS92638STAEVM
32
$199.00
Newark
TPS92638STAEVM
$204.89
AVNET Express
TPS92638STAEVM
$242.78
Mouser Electronics
TPS92638STAEVM
0
$268.68
DigiKey
TPS92638STAEVM
5
$154.75
Arrow North American Com...
TPS92638STAEVM
5
$104.70
Verical Marketplace
TPS92638STAEVM
5
$104.70
Part Number
Name
Companion Part