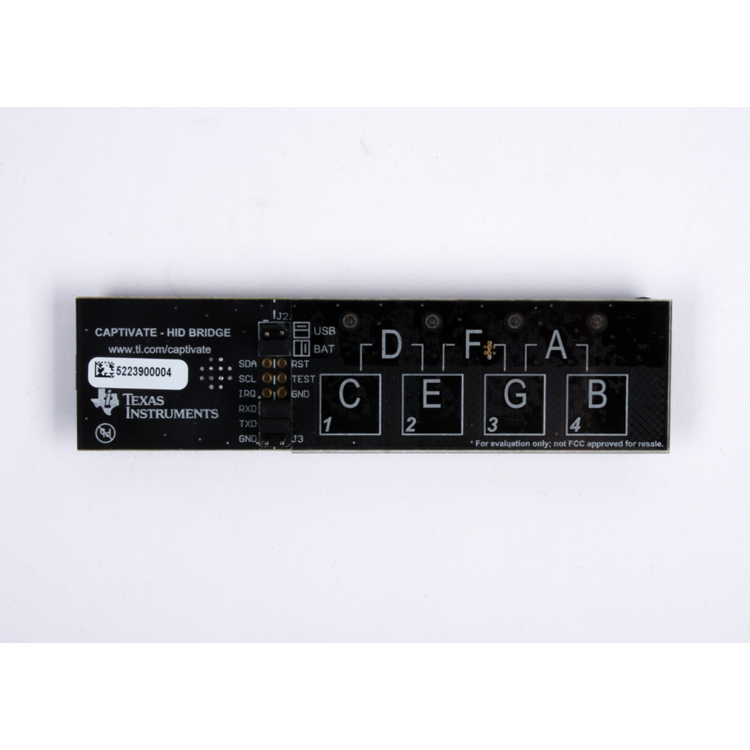 MSP430FR2512 CapTIvate™ Capacitive Sensing Demonstration Board
Texas Instruments

Description:
The EVM430-CAPMINI is an easy-to-use evaluation board for the MSP430FR2512 capacitive-touch-sensing microcontroller. It demonstrates the key features of CapTIvate technology such as ultra-low power and ease of use. The onboard CapTIvate HID bridge tool supports touch online tuning with CapTIvate Design Center. The board includes four touch buttons and four LEDs to create a simple user interface. It also provides a buzzer for advanced applications. The board can be powered by USB cable or an onboard CR1632 coin battery which enables stand-alone, portable demonstration.
Features:
Features the ultra-low-power MSP430FR2512 capacitive sensing MCU
Four Capacitive touch buttons
On-board speaker for outputting sound
On-board HID bridge for communicating with CapTIvate Design Center on PC
Type: Evaluation Modules & Boards
Part number: EVM430-CAPMINI
MSP430FR2512 CapTIvate™ Capacitive Sensing Demonstration Board Inventory
by: Texas Instruments
Distributor
SKU
Stock
Cost
Mouser Electronics
595-EVM430-CAPM...
2
$16.34
Texas Instruments
EVM430-CAPMINI
157
$11.99
Arrow North American Com...
EVM430-CAPMINI
0
$14.96
Verical Marketplace
EVM430-CAPMINI
298
$14.39
AVNET Express
EVM430-CAPMINI
$14.63
Digi-Key
296-EVM430-CAPM...
19
$14.39
Part Number
Name
Companion Part