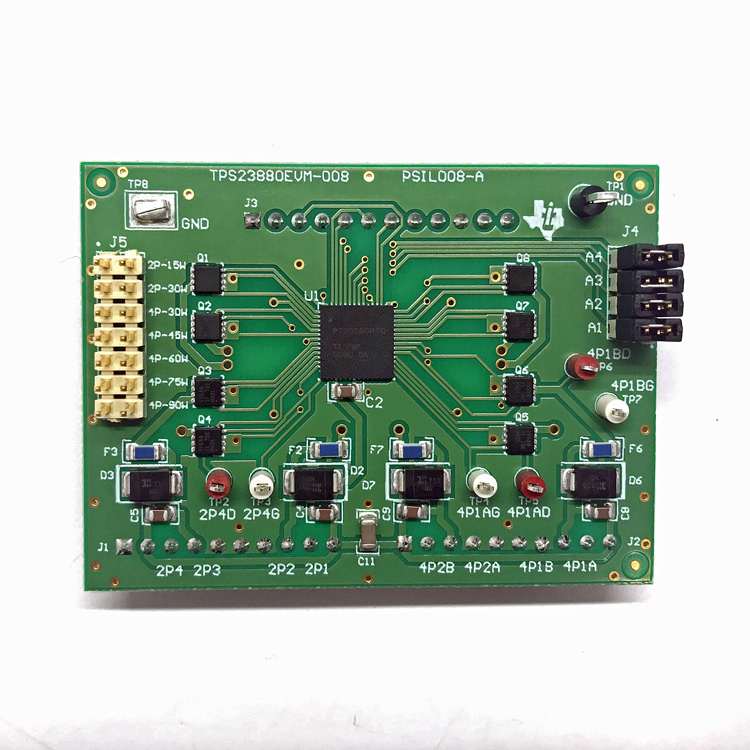 TPS23880 EVM Daughter Card for IEEE 802.3bt-Ready PoE PSE Applications
Texas Instruments

Description:
The TPS23880EVM daughter card features the octal channel, TPS23880, IEEE 802.3bt ready PoE PSE controller. When paired with the IEEE802.3bt ready PSE motherboard BOOST-PSEMTHR-007 (sold separately), user's can evaluate the TPS23800 device.
The full PoE Evaluation ecosystem includes the following (optional companion tools also listed):
TPS23880 Evaluation System

BOOST-PSEMTHR-007: Mother board for IEEE802.3bt ready PoE PSE applications (sold separately)
TPS23880EVM-008: TPS23880 Daughter Card for IEEE802.3bt ReadyPoE PSE Application

USB2ANY Interface Adaptor (MUST HAVE COMPANION): Used with TPS23880EVM GUI for I2C Interaction with TPS23880EVM (BOOST-PSEMTHR-007 & TPS23880EVM-008)

MSP-EP430FR5969 (OPTIONAL COMPANION): MSP430 LaunchPad Development Kit used with Code Composer Studio for TPS23880EVM-008 firmware development

TPS2373 Evaluation Module for IEEE802.3bt PoE PD Applications
TPS2372-4EVM Evaluation Module for IEEE802.3bt PoE PD Applications
TPS2372-3 IEEE802.3bt Type 3 PoE PD Evaluation Module for Lighting
TPS23880 Power over Ethernet MSP430 Reference Code
Features:
Eight IEEE802.3bt ready channel PoE PSE controller
Pin programmable I2C addresses
Low cost 2-layer PCB
Flexible operation modes: Auto, Semi-Auto and Manual
Type: Daughter Cards
Part number: TPS23880EVM-008
TPS23880 EVM Daughter Card for IEEE 802.3bt-Ready PoE PSE Applications Inventory
by: Texas Instruments
Distributor
SKU
Stock
Cost
Texas Instruments
TPS23880EVM-008
122
$199.00
AVNET Express
TPS23880EVM-008
$242.78
Mouser Electronics
TPS23880EVM-008
8
$266.77
Digi-Key
TPS23880EVM-008
2
$157.25
Verical Marketplace
TPS23880EVM-008
135
$230.42
Arrow North American Com...
TPS23880EVM-008
0
$271.03
Part Number
Name
Companion Part