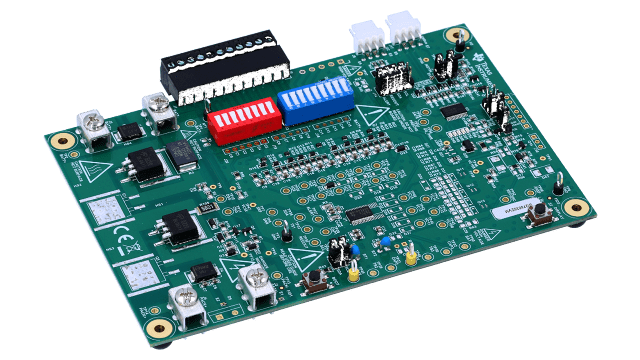 µC-Controlled AFE Family for 5/10/15-Series Cell Li-Ion and Phosphate Evaluation Module
Texas Instruments

Description:
The bq76930EVM is a populated circuit board for evaluation of the bq76930 analog front-end (AFE) along with the bq78350 Battery Management Controller that serves as part of a complete pack monitoring and protection solution for 6 to 10-series Lithium Ion, Lithium iron phosphate, and more battery chemistries. When used with an EV2300 or EV2400 interface adapter and appropriate evaluaton software available from the website, it provides a complete environment to evaluate register control of the AFE or the controller configuration and demonstrate current control of a battery system with the devices.
Features:
Bq7693000 AFE IC
Bq78350 Battery Management controller
FETs for current control
Test point patterns for easy evaluation
Type: Evaluation Modules & Boards
Part number: BQ76930EVM
µC-Controlled AFE Family for 5/10/15-Series Cell Li-Ion and Phosphate Evaluation Module Inventory
by: Texas Instruments
Distributor
SKU
Stock
Cost
Texas Instruments
BQ76930EVM
31
$249.00
Mouser Electronics
595-BQ76930EVM
11
$322.11
DigiKey
296-38887-ND
1
$298.80
Farnell
BQ76930EVM
6
$250.09
element14 APAC
BQ76930EVM
6
$441.10
AVNET Express
BQ76930EVM
$303.78
AVNET Europe
BQ76930EVM
$272.69
Newark
BQ76930EVM
6
$313.74
Arrow North American Com...
BQ76930EVM
0
$287.31
Verical Marketplace
BQ76930EVM
1
$292.56
Technical Documents
Download user guide for µC-Controlled AFE Family for 5/10/15-Series Cell Li-Ion and Phosphate Evaluation Module by Texas Instruments
Technical Documents
Part Number
Name
Companion Part