"It was really very moving," said Eduardo Miranda from the Interdisciplinary Centre for Computer Music Research at Plymouth University.
The software has been developed as part of a 10-year program led by Plymouth University, and works by hooking a patient up to an EEG cap, which reads electrical information from their brain. This allows a patient to select musical notes and phrases with their mind, simply by focussing on different coloured lights on a computer screen.
"The great achievement of this project is that it is possible to perform music without being able to actually move. She is essentially controlling another musician to play it for her," said Miranda. "It's not yet possible to read thoughts but we can train people to use brain signals to control things."
Three other patients have also been involved in the trial, and together with Johnson, they've each been able to compose music for one of the musicians in the Bergesen string quartet.
The composition happens in real time, with each patient slightly altering and adding music as they go, and the musicians playing it live.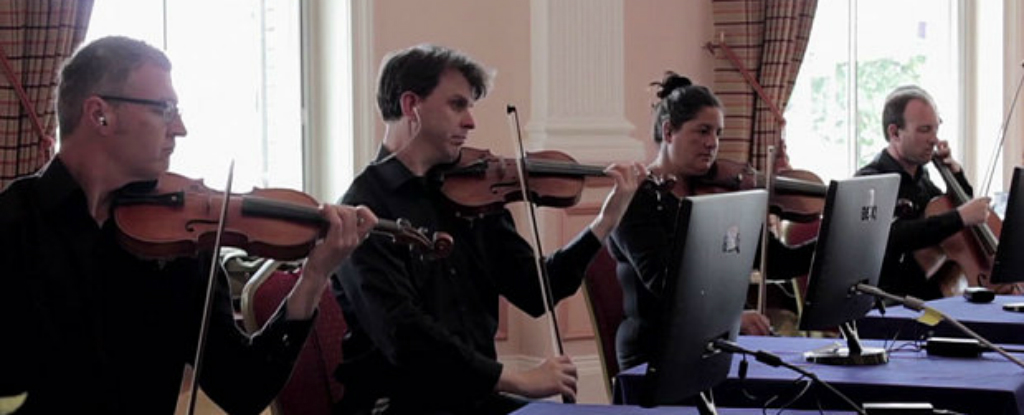 Together, they've called themselves The Paramusical Ensemble, and they've already recorded a piece of music called Activating Memory, which will be played later this month at the Peninsula Arts Contemporary Music Festival in Plymouth.
Before this, Johnson was only able to play a few chords at the piano with the help of her mother, who explains that the new project has been a huge help.
It's an incredible project that shows just how far scientists have come in being able to unlock the thoughts and actions of disabled people simply by reading their brainwaves. Similar technology has allowed a paralysed woman to fly a fighter jet using nothing but her thoughts, while a patient in the US was able to walk last year, thanks to a program that rerouted his brainwaves straight to his legs, skipping his damaged spinal cord altogether.