While the AG241QG comes with 165Hz, NVIDIA G-SYNC technology and NVIDIA ULMB, the AG241QX differentiates itself by having 144Hz and Adaptive-Sync technology.
Features enable both monitors to race through all games without stutter, screen tearing and motion blur. In addition they consist of a 1ms response time and a 2560x1440 pixel resolution. Therefore both models are aimed clearly for enthusiastic and highly competitive gamers, and fulfilling their demand to always grind on the edge of what is humanly possible.
Contributing to the premium grade is a variety of comfort features of the AGON monitors. Thanks to the AOC Ergo Dial Base on both monitors, the screens can always be adjusted to user's personal needs ensuring enduring stamina for long gaming sessions. These functions are height-adjustment, combined with a scale to set the preferred level, as well as tilt and swivel options.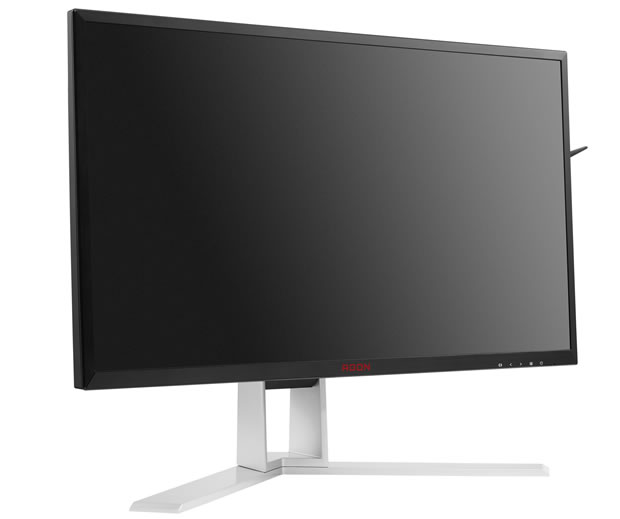 An extremely important feature is comfort for the eyes for outlasting the competition. Which is why AOC ensured their Flicker-free technology is present in both the AG241QG and AG241QX, to induce low flicker and reduce fatigue and eye discomfort. The Adaptive-Sync model goes even further with its Low Blue Light mode, reducing adverse short wavelength blue light without sacrificing colour quality.
Additional powerful gaming features of the AG241QX are the AOC low input lag, AOC shadow control and the AOC game mode presets on the special keypad. The low input lag ensures games' commands are executed without delay, whereas the AOC shadow control provides quick contrast adjustment for a better view of pinpointed areas, not jeopardising the already well-balanced screen areas.
While the AOC settings KeyPad is perfect for comfortably switching between various image settings, saving presets and instantly activating them when needed has never been easier.
The AOC AGON AG241QX will be available in August 2016 for an MSRP of £389 and the AOC AGON AG241QG for an MSRP of £519 in September 2016.