If you're looking for traffic updates, a taxi, white noise, a wake-up call, night-light, mobile charger, and weather updates, check out the BEDDI, a one-stop-shop alarm clock capable of doing all of that, from one device.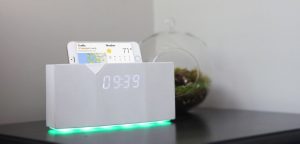 The alarm clock was created by WITTI, a company that used bedside smartphone habits, collected by Bank of America Trends in Consumer Mobility Report to reinvent the traditional alarm clock.


Beddi is an intelligent app-enabled alarm clock —along with a lot of other things —like a Bluetooth speaker, smartphone docking station, and mood light that connects and controls smart home devices.
Users don't even have to leave their bed to deal with different aspects of their home. For example, Beddi can learn your morning commute and provide you with random traffic updates, you can simply push a button and have Beddi arrange your UBER pick-up, you can even connect Beddi to other smart home systems like Nest, Lifx, Philips Hue and WeMo Switch to upgrade your connectivity.
As for ordinary bedtime functions, Beddi offers white noise generation, mood lighting, and spotify wake-up tunes. You can also use Beddi for device charging, weather alerts, or even integrate it with Siri for voice command functionality.
Beddi is currently runing a
Kickstarter
campaign where it has more than doubled its initial funding goal of $25,000. You can pre-order one for an early-bird rate of USD$75 (regularly $100.)