However this is not the end for trusty headphones, Apple has added stereo speakers and supports the new Apple AirPods which are the wireless earphones that Apple claims to be 'completely magical'.
The 'magical' AirPods will be completely wireless and utilise Apple's new W1 wireless chipset, which allows up to five hours of use per charge, and comes in a charging portable case that supplies 24 hours total listening time worth of charging.
Eliminating the typical pairing process, the W1 chipset activates as soon as you remove the AirPods from the case, a connect dialog automatically appears on the device; the device pairing setup propagates across devices via iCloud.
Lightning EarPods will be included with the iPhone 7 and 7 plus, with a lightning connector instead of the universal 3.55mm plug. Apple will be also providing an adapter if you still want to use your current headphones, so every cloud.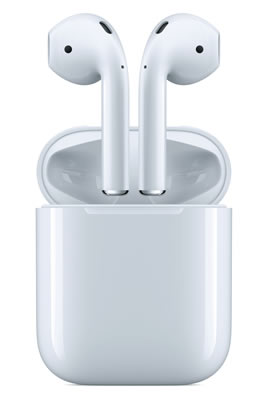 The company has a long history of dropping support for legacy technologies to make its current products more compelling, by enabling them to be smaller, faster or lighter. The removal of the headphone is a riskier move for Apple, due to the number of non-computing devices which use the socket. Apple just has the job now to make the case, that the many enhancements are worth the inconvenience of the lack of a headphone socket, or consumers will hold off upgrading to iPhone 7.
On to some good news, with both the models now having optical image stabilisation, with a faster f1.8 lens, four LED true tone flash and also offering twin camera modules with 26mm and 56mm lens for wide and telephoto, meaning a far better selfie can be taken.
Apple is correctly focusing on the defining feature of flagship smartphones, the camera and will see benefits in several ways from the improved iPhone camera.
Ian Fogg, Head of Mobile Analysis, IHS Technology explains that in a maturing smartphone market, a new camera will help to persuade consumers that their current smartphone is no longer good enough. The iPhone 7 and its camera is expected to successfully differentiate it from other smartphones, the main reason being a camera is one of the few features with vast room for improvement on the smartphone.
However, Apple are taking risks with their launch of the two new models, as they need this iPhone to help return their growth, but are keeping the best iPhone dual camera features limited to the larger iPhone 7 plus model.
The improvements Apple is making do not stop there, with the iOS 10 technology including automatic photo organisation, image recognition and video creation which helps customers to enjoy their photos more. Unlike the Google Photos, which pioneered these techniques, Apple's iPhone hardware is taking on most of the processing, over the cloud. Meaning not only is Apple's cloud computing costs reduces, but it also supports Apple's positing on privacy as well.
In using the A10 Fusion chip, a very advanced chip it is delivering the best battery life ever in an iPhone, shown by getting more time between charges. Apple states that "The A10 Fusion's CPU now has four cores, seamlessly integrating two high-performance cores that run up to two times faster than iPhone 6 and two high-efficiency cores that are capable of running at just one-fifth the power of the high-performance cores."
Philip Schiller, Apple's senior vice president of Worldwide Marketing commented: "The A10 Fusion chip is the most powerful chip on any smartphone with an entirely new stereo speaker system provides twice the sound, all within the first water and dust resistant iPhone." As the reengineered enclosure results in a water resistant iPhone offers protection like never before against spills, splashes and dust, with a IP67 rating.
Finally some other notable features you may want to know before getting your wallet out is the 25% brighter display, with wide colour gamut and last but not least two new colour with a high-gloss and matte black effect available.
One a side note, three new Beats products have been released, the Beats Solo 3 Wireless, Beats X and Powerbeats 3 Wireless, all fast-charging wireless headphones compatible with the new iPhone 7 modules, (nice timing Apple!)